Bear is a new contender in the note taking arena from long-time developer house Shiny Frog, also known for the graphic management tool Pixa.
The app is available on macOS and iOS syncing exclusively over iCloud, more specifically CloudKit. It sports markup options and in-line image support.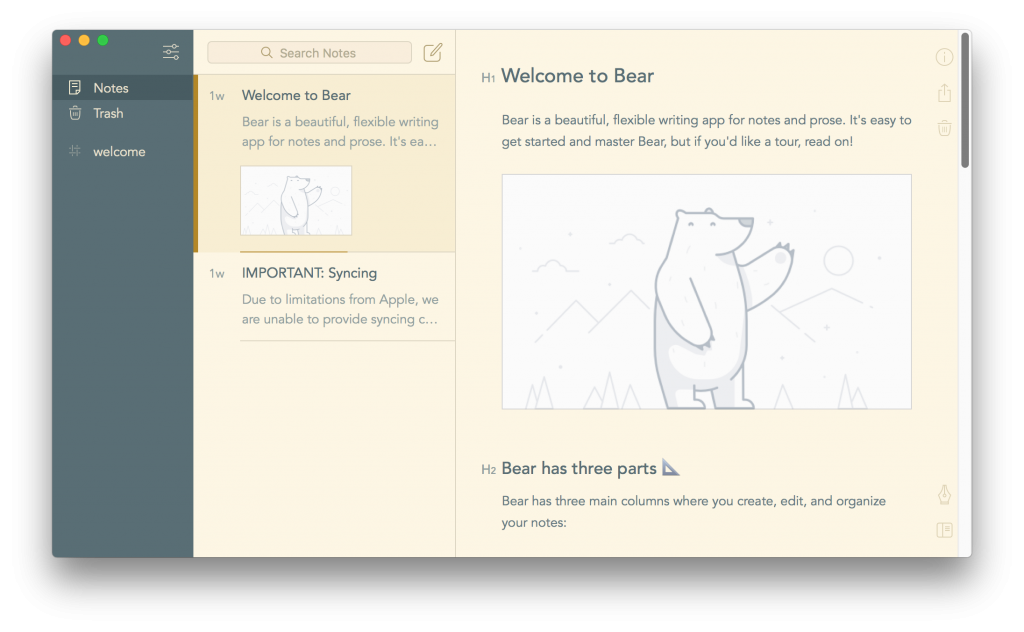 The editor allows to switch between several pre-build themes.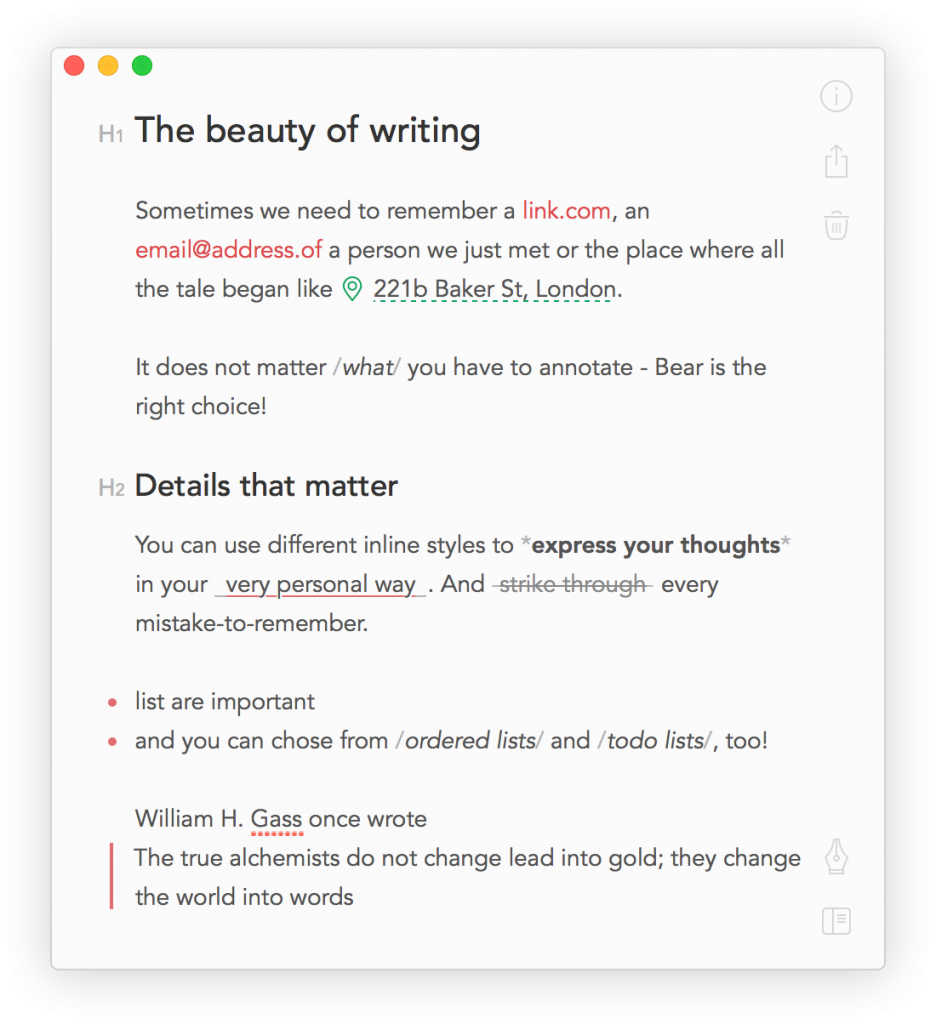 Importing
On macOS there are browser plugins for both Safari and Chrome. There is a specific menu item for importing existing notes from Vesper, Evernote and existing text files wirh the option to transfer words starting with hashtags to tags in Bear.
Problem with iCloud based note taking apps is the hidden filesystem making the automation of such apps more limited to URL schemes under iOS or interfaces such as AppleScript or Javascript on macOS. But the developers have done their homework and implemented a full-featured URL scheme which at least helps on the mobile side of things.
To send some text from my beloved Drafts app to Bear, this small URL action makes it happen:
bear://x-callback-url/create?title=%5B%5Btitle%5D%5D&text=%5B%5Bbody%5D%5D

To append some text to an existing note (The ID in the example needs to be updated with the one from your note):
bear://x-callback-url/add-text?text=[[draft]]&id=11A38FA2-F01D-4853-85F6-757117AE1E04-4216-000017830183211E&mode=append

Editing
Bear offers cross-note links which are handy to reference other notes relating to a topic. Even easier is putting the name of the referenced note into double brackets – a technique well known to users from nValt. However, there are no folders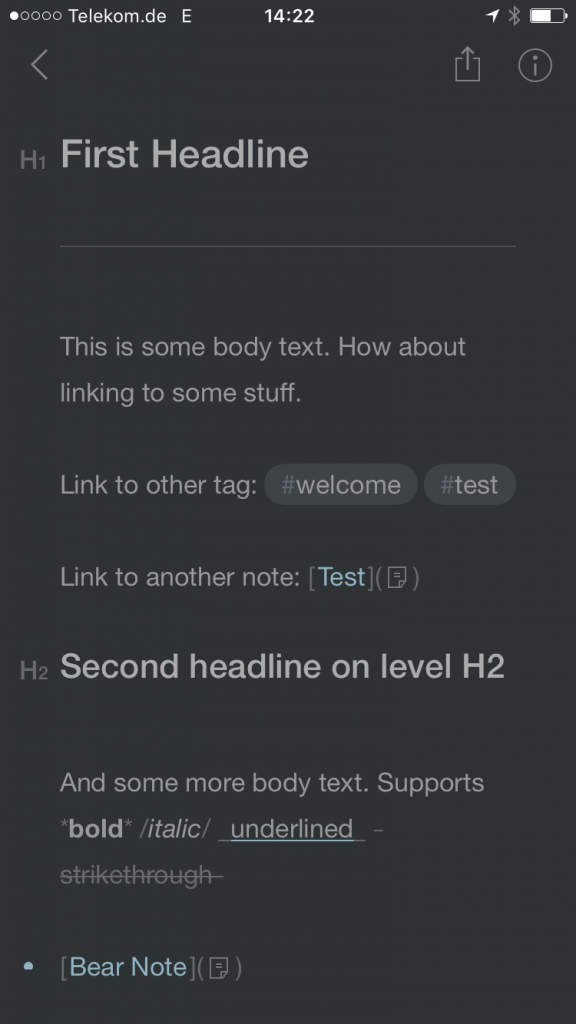 Tags are added by prefixing a hashtag and represent another mechanism to organise notes.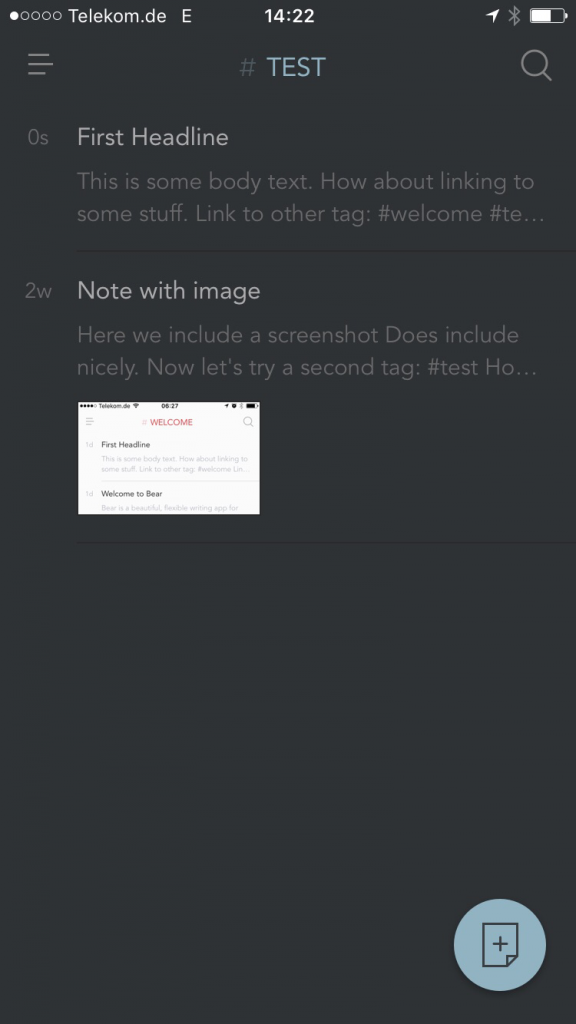 In editing mode a separate key row is added to the standard software keyboard. Also external keyboards are supported with quite a few built-in shortcuts: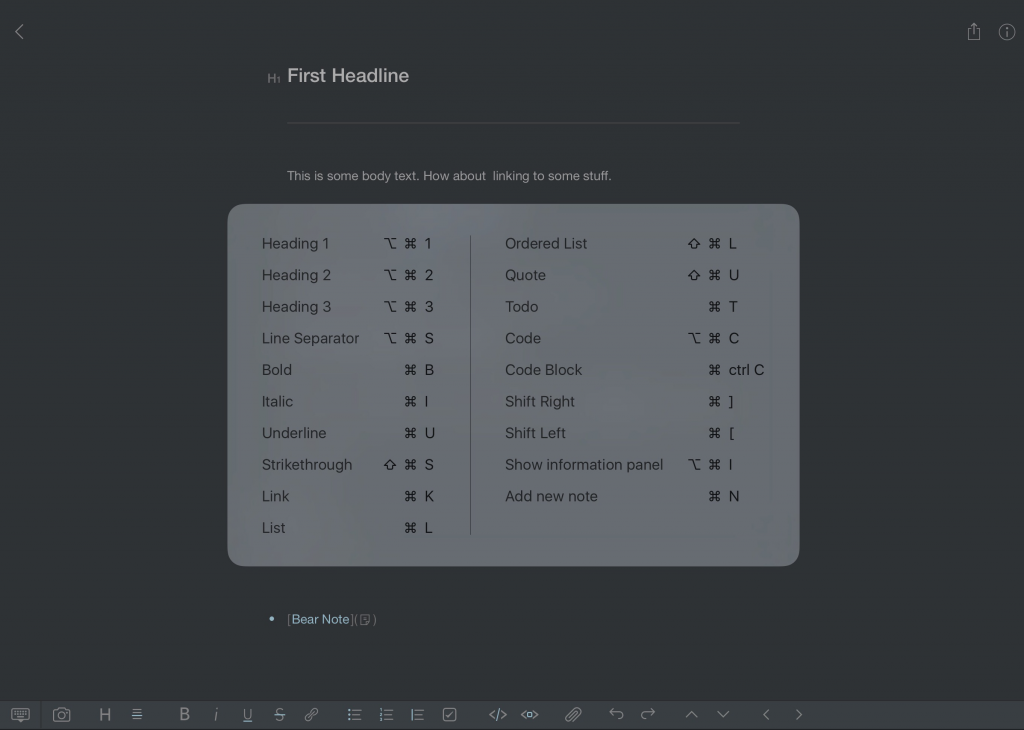 Exporting
Notes can be exported in PDF, HTML, RTF, Markdown, Microsoft Word, JPEG and all images individually. Bear for Mac also supports the share sheet and Textbundle (Yay). Triggering is possible via keyboard shortcut. There is a menu item to render a note in Marked (no keyboard shortcut).
Mass file handling is usually difficult to simply not possible on iOS, but Bear has you covered. A specific menu in the seetings lets you impprt and export all your notes in one swoop based on whatever iOS allows to access from data providers.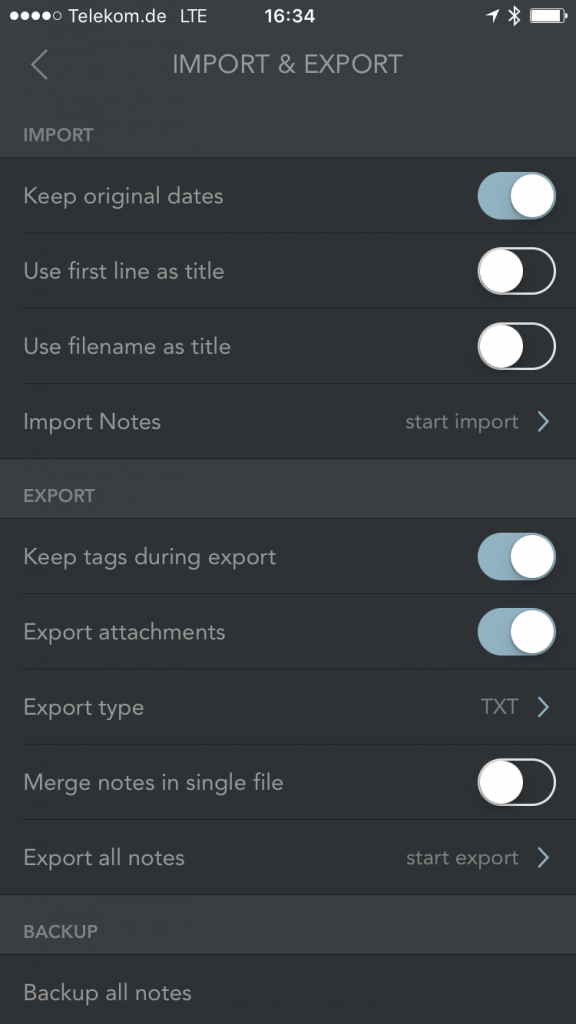 Pricing
The core version of Bear for iOS and Mac will be free. Bear Pro will offer advanced features, including themes and exporting, which can be unlocked via a single In-App Purchase that covers all your devices. Unlocking Bear Pro also provide one year of sync between your devices. When the year is over, you'll be able to renew sync for another year. The other unlocked features remain yours forever.
A one-time fee for Bear Pro would not be a problem. But I have serious doubts that customers will accept a subscription fee for enabling sync via iCloud which they assumingly already pay for. The developers will have to make it clear that apps running on Cloudkit do impose ongoing costs by Apple. Including this into a one-time purchase price will make it difficumt to sustain once a certain time of usage by the end users has passed. I personally am fine with this but I assume the average user is not aware of the metrics behind the scene. Shiny Frog is offering a monthly and yearly subscription (1.49 € per month or 15.99 € per year).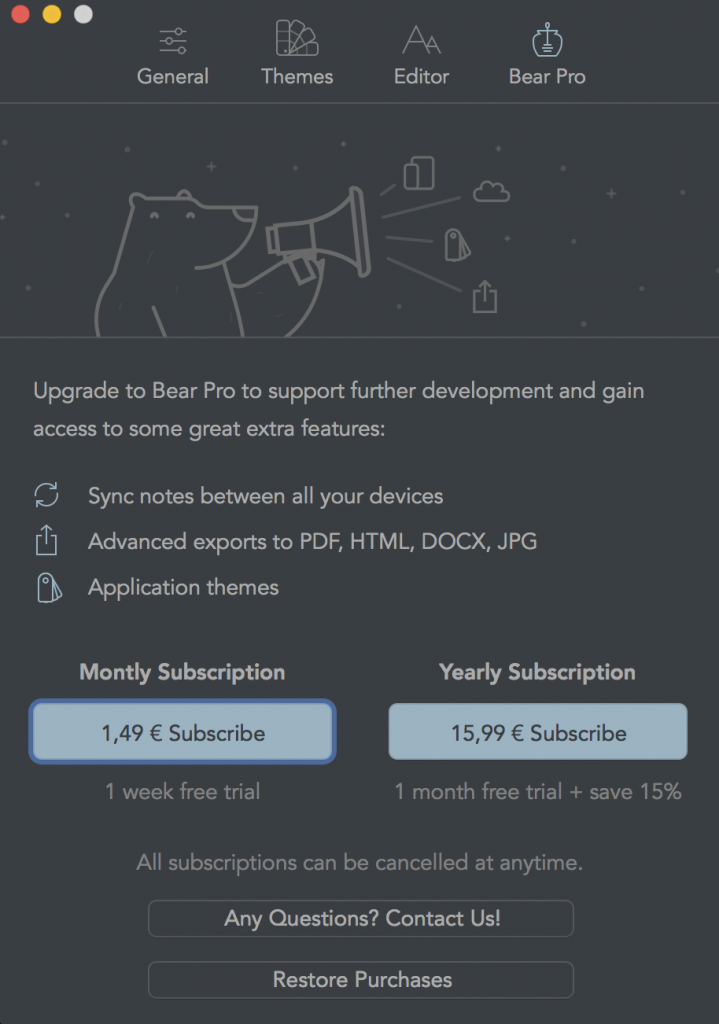 Thoughts
I like the idea of having a markdown-based note taking application – a wish I always had even when I was still using Evernote. My current application of choice – nValt – is no longer developed and the successor Bitwriter is not even in beta. Drawback here is the lack of image support which Bear conveniently solves.
Bear does a lot of things right – with mass export options even on iOS the developer makes it clear there is no lock-in intended. The export options of the markdown files are wide and useful. The themes convey a modern look and the typography settings lets the user decide how his environment should look like. The URL-scheme allows for automation scenarios – at least on iOS. Textexpander is natively supported. Cloudkit as a basis seems to work – Ulysses is using it as well and the community seems to be happy with the solution. Bear highlights search terms in notes which I find very helpful.
As a long-time nValt user however, I am used to be flexible in the apps to access the notes on macOS and iOS. Comitting to Bear means there is no choice any longer.
For a moment I was thinking to use Ulysses for my notes because it offers folders, saved searches and much more output control but the missing image display in the notes is a dealbreaker for me. Plus I like the possibility to add tags into text rather than only attach them as metadata.
Pro
Notes can be linked
Images can be integrated into notes
Tags can be integrated in text
Full URL scheme for automation on iOS
Con
Notes are not accessible via file system on macOS
No theming options for export
No saved searches
Bear is available on the Mac App Store and App Store as a free download. The Pro version is 1,49€ a month or 15,99€ a year.